Valo Therapeutics is developing a virus-based immunotherapy to defeat cancer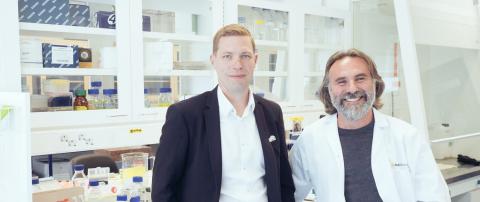 Published on: http://www.healthcapitalhelsinki.fi, September, 2017
There have been major developments in cancer treatment in recent years. However, treatment of advanced, metastasized tumours remains challenging, and still requires search for new solutions. Valo Therapeutics is currently developing an oncolytic virus-based immunotherapy that is scheduled to enter clinical trials in upcoming years.
Valo Therapeutics is a young start-up company that was founded in 2016 by the University of Helsinki. The company has a total of seven employees in Finland and England.
Antti Vuolanto, the Chief Operating Officer of Valo Therapeutics, remarks that the characteristics of the company are unique. Even though the company is young, it employs an experienced team with strong contacts to research institutions, research organizations, and financiers – both in Finland and abroad.
The entire Valo Therapeutics team in Finland has previously worked at Oncos Therapeutics, a Finnish company developing oncolytic virus treatments. Oncos was subsequently sold to Norwegian company Targovax in 2015. Additionally, Vuolanto himself has already worked for four different Finnish bioscience start-ups.
"With such an extensive experience as a starting point, we have exceptionally intense pressure to succeed", Vuolanto reflects.
Read full article here