Valo Therapeutics Announces Acquisition of Bruker Corporation's Latest Mass Spectrometer Platform for Tumor Antigen Identification with ValoTx's PeptiCHIP Technology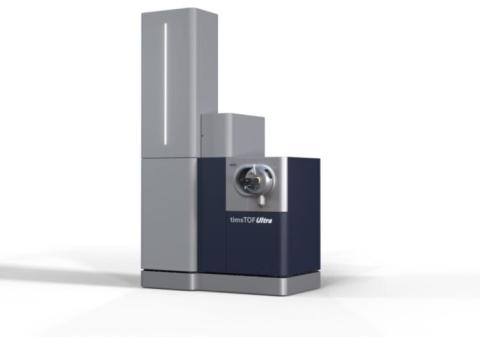 Helsinki, Finland, 10 Oct 2023 – Valo Therapeutics Oy (ValoTx), the developer of novel, adaptable immunotherapies for cancer, announces it is the first biotech company in Europe to install and use the Bruker Corporation's new timsTOF Ultra mass spectrometer and liquid chromatography platform, which provides transformative speed and sensitivity for antigen identification in connection with ValoTx's PeptiCHIP technology.
Tumor neoantigens are expressed uniquely by cancer cells and their presence can trigger an efficient immune response against the tumor. Currently the methods available to identify these antigens have significant limitations by being long, complicated and resource demanding. Using the timsTOF Ultra in conjunction with ValoTx's innovative microfluidic PeptiCHIP immunopurification device and prioritization algorithm increases the chance of success of neoantigen identification and allows their detection from ultra-low sample amounts, such as tumor tissue biopsies.
Bruker's timsTOF Ultra platform, launched in June 2023, employs trapped ion mobility spectrometry in combination with quadrupole time-of-flight technology and other performance improvements to offer unparalleled sensitivity. It has been specifically designed for the needs of immunopeptidomics and unbiased single-cell proteomics, where the ability to detect low-abundance peptides is crucial.
Dr Otto Kari, VP & Head of ValoTx's Antigen Business Unit, and EIC projects lead, said, "This amazing piece of top-of-the line kit from Bruker, which has now been running in our R&D laboratory since August, allows us to identify thousands of antigens from each PeptiCHIP processed tiny tumor sample with unparalleled speed, sensitivity, and robustness. The timsTOF Ultra will be instrumental in the further development and maturation of our PeptiCHIP microfluidic chip technology, supported by the EIC Transition PeptiCHIP grant. We will also be exploiting its single-cell analysis capabilities to push the boundaries of research through our collaborations with leading researchers at the University of Helsinki and elsewhere."
Paul Higham, CEO of ValoTx, commented, "As one of Bruker's strategic collaborators in the field of immunopeptidomics, we're delighted to be the first biotech company in Europe to receive this top-of-the-line mass spectrometer, the timsTOF Ultra, which will be no doubt become a cornerstone in our work towards developing personalized immunotherapies in combination with PeptiCHIP and our lead delivery platform, PeptiCRAd. As a spin-out of the University of Helsinki, we're also delighted to support high-level research by installing the instrument in the state-of-the-art mass spectrometry laboratory at the Faculty of Pharmacy."
Prof. Jari Yli-Kauhaluoma, Dean of the University of Helsinki's Faculty of Pharmacy, said, "Our Faculty has a rich heritage of top-level research and innovation in pharmaceutical sciences, where access to the latest transformational technologies can make a fundamental difference to global human health. We are delighted that, through research collaborations with ValoTx, we can gain access to Bruker's timsTOF Ultra mass spectrometer. Who knows what breakthroughs we will be able to achieve using this impressive instrument."
For more details of the Bruker Corporation's timsTOF Ultra platform, see the company's 6 June 2023 press release, here.
ENDS
About ValoTx
Valo Therapeutics Oy (Helsinki) is an immunotherapy company developing antigen-coated oncolytic viruses as therapeutic vaccines against cancer. The ValoTx lead platform, PeptiCRAd (Peptide-coated Conditionally Replicating Adenovirus), was developed out of the laboratory of Professor Vincenzo Cerullo at the University of Helsinki. It turns oncolytic adenoviruses into powerful activators of systemic anti-tumor cytotoxic T-cell immunity without the need to generate and manufacture multiple genetically modified viruses. PeptiCRAd-1 is the company's lead product made up of its virus VALO-D102 coated with MAGE-A3 and NY-ESO-1 peptides. The company is also developing other neoantigen strategies.
Watch our film explaining the PeptiCRAd technology. For more information see our website and follow us on LinkedIn.
Contacts
Valo Therapeutics Oy
Matthew Vaughan
Email: info@valotx.com
Scius Communications (for ValoTx)
Katja Stout
+44 778 943 5990
Daniel Gooch
+44 774 787 5479